News
Stephen Rea & Dr Mark Phelan Talk 'Translations'
Mon Apr 25 2022
If you're coming to see our hugely anticipated co-production of Brian Friel's 'Translations', with the Abbey Theatre, or even if you're not, wow do we have a treat for you!
Below, legendary actor, director and founder of Field Day Theatre Company, Stephen Rea and Dr Mark Phelan, Senior Lecturer at Queen's University's School of Arts, English and Languages, and Lyric Board Member, discuss the first production of 'Translations' in 1980 at the Guildhall in Derry.

Grab a cuppa and take five to delve into this fascinating conversation, plus enjoy some wonderful backstage photos from the original production.
Dr. Mark Phelan (MP) 'Translations' was the inaugural production of Field Day in 1980, by which time, the North seemed mired in a military stalemate and an overwhelming sense of political paralysis. Against this backdrop, what role did you and Brian - and Field Day as a whole - believe theatre could play in this period of crisis?
Stephen Rea (SR) Everything starts with instinct rather than intellectual purpose. Eventually, the purpose emerges. Simply, I knew that I could get some money from the Arts Council and I phoned Brian and went to Muff in Donegal where he lived at the time, and asked would he write a play and we could put it on, hopefully in Derry. He was immediately very positive and said he was working on a play. It turned out to be Translations – perhaps his greatest play – and certainly the most pertinent to the situation that we were in, in terms of language and its destruction. The people in Derry – especially a guy called Kevin McCall – were passionate that we would come and do it in Derry. That's how the shape of it emerged, and it became clear that what we were calling Field Day would become more than just the one production which is all we had reckoned on. But then we gathered up Seamus Heaney and Seamus Deane, Davy Hammond and Tom Paulin and Kilroy - we had a group of intellects that you couldn't ignore. So we ended up with a whole programme for Field Day, and we ended up doing three plays in a row – including Brian's translation of 'Three Sisters' and 'The Communication Cord', which was a comment on the response to 'Translations'. We very quickly took on an identity. We opened in Derry, but we toured all over Ireland, and that gave us our identity as much as anything. Although the response was often very different in places, we were determined that people would hear the same things everywhere in the country.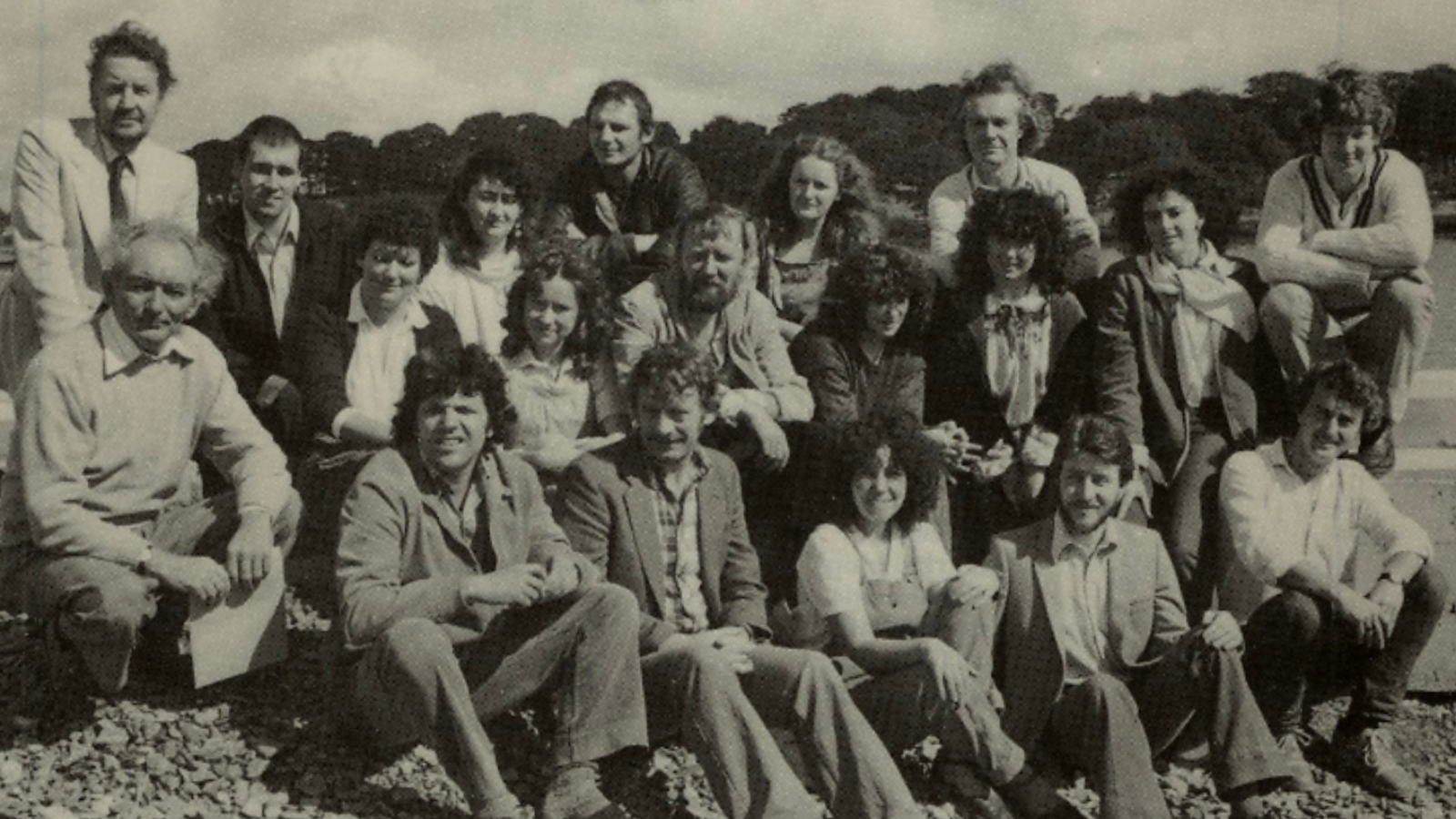 MP It was a conscious decision to be situated in Derry, rather than mere convenience of Brian being over the border- from the outset you had a clear political commitment to the city, but also for the play - and Field Day - to have something to say. But why did you believe theatre was the best forum for this type of debate and challenge?
SR Theatre is more often a saner forum for political debate because theatre asks questions – it doesn't necessarily always answer them – but it provokes questions for audiences. The discrimination against Catholics in Derry at the time had not quite come to an end, but there was now a nationalist majority in the Council, so after years of Catholics not being allowed anywhere near the Guildhall, they were now in charge of it and that was where we were asked to stage the play to perform it in the Guildhall, and that was a statement. I will say, and I always mention this, that the Mayor of Derry at that time was Marlene Jefferson, a Unionist. She initiated a standing ovation for us at the end of the opening night. I loved Marlene Jefferson, she was a lovely person. I went and thanked her, she did so much for us at that time. And she said, 'Stephen, all I care about is Derry.' She was the perfect Mayor. And the audience is the context for the play. You're not doing it for a nice middle-class audience, you're doing it for people, some of whom have probably never been in a theatre before...
MP Or into the Guildhall even...
SR Exactly. And it was a defiance of the traditional identity of the Guildhall that we were there. I don't mean that we were attempting to be offensive, but those stained glass windows were depicting a different culture – a culture that had replaced Gaelic culture – and the play deals with these historical identities, and so there were a lot of questions for anyone who wanted to see them answered. To be honest, I have never since seen a play that had such a perfect context. I saw the production in the National Theatre London a couple of years ago. Ciarán Hinds was superb in it, and Judith Roddy, they were all fantastic. But nothing will ever better the context of the Guildhall on that opening night.
MP It was such a serendipitously symbolic setting in so many ways. Didn't you first meet Brian with Freedom of the City (1973) which is set in the Guildhall, and here you are several years later actually inside the Guildhall, staging a play in a city that was a crucible of the civil rights movement and cut off from its natural hinterland of Donegal outside those stained glass windows where the play was notionally set, with a mayor who was in post because of a power- sharing agreement with the nationalist majority of the council- a precursor to what we have now, politically speaking. It seemed an extraordinary convergence of politics and place and theatre.
SR Derry is a very particular place, and I must say I love working there any time that I have. When I worked there with Sam Shepherd, in the last play he wrote, A Particle of Dread, he loved it and he walked the walls all the time. It infiltrated his view of the play. The historical reality of Derry always impacted on the theatre that you did in it.
MP Going back to your remembrance of rehearsing the play, did you have a sense of the significance of the production – that you were 'making history' so to speak?
SR I was in London when Brian was writing the play, and he sent it to me act by act. I got the first act, and I knew that it was a great play – of course I did. Sometimes you can tell immediately. I just wrote back, Bloody wonderful. Or I tried phoning him – It was the times when you couldn't get through to Donegal. It was a glorious time to be working on a play that was unquestionably great. Every line of it was absolutely superb, and it opened up a glorious dialogue with ourselves...
MP And this dialogue wasn't just limited to this play but was key to the work of Field Day with other productions, pamphlets and publications over the next decade which transformed critical and cultural debates and politics, history, and identity here.
SR Well, we had this unique constellation of people; we were committed; we wanted to challenge entrenched establishment views, and, invariably, this led to a reaction. I mean when Translations opened it was greeted as a landmark production, but later all sorts of attacks evolved as to the play being some kind of republican stalking horse. Some of these questioned the historical accuracy of the play in terms of the Ordnance Survey or the classical education of English officers, and others outrageously suggested that the Irish gave up the Irish language willingly. But the truth is, they didn't give it up willingly. And as Maire in the play says, I need to learn English because I'm going to America. I can't get work here, I have to go to America. Plain, social analysis. That was what people were forced to do.
MP From the perspective of the present day, the vitriol of these criticisms as part of the debates in the 1980s is worth recalling even if it is hard to comprehend how vicious these critical and literary "canon-balls" were. It still shocks me today to read how Colm Tóibín said, "it was hard not to feel that Field Day had become the literary wing of the IRA."
SR The outrageousness of that claim should have been obvious to everyone, especially looking back at that body of work Field Day produced for the stage - starting with Translations, which has most recently been produced twice by the National Theatre London, and which has played all over world precisely because its reflections on language and identity resonate in so many societies dealing with the consequence of colonialism and conflict. And to counter that, especially as the terrible scenes are unfolding in Palestine over Easter as we speak, I can't but help remember how the late, great scholar Edward Said expressed how he wished the Palestinians had their own Field Day, because he knew that what we were about was the working through of ideas rather than violence as the way forward.
MP Field Day were fundamentally always about language and place, and those roles and relations between them. What kind of political charge do you think Translations has in post-Brexit Ireland for audiences in Dublin, Belfast, and Donegal?
SR Well, Big Hugh says, we tend to overlook your country. And that is absolutely true. Before the conquest, Ireland didn't bother with England, and this is what has happened now – Ireland has chosen to overlook England. They are quite happy to do a deal with them about things but, the truth is, we're Europeans. I feel ok about that, I do not feel locked into a provincial mindset looking towards London.
MP The play is written in English and so there is an ambiguity and a complexity to the play that doesn't allow for any simple green/orange reading of the play or to see this Irish-speaking Ireland as some utopian idyll. It's a play with a society on the cusp of catastrophe, in the shadow of the Famine, with characters who are maimed or mute, or senile or stocious throughout the play. Even when Yolland rhapsodizes about the place being like a paradise, he is castigated – 'The first hot summer in 50 years and you think it's Eden". It seems a profoundly anti-romantic play?
SR What you also have to realise is that this is post-Conquest period, whether you like it or not. This is after the Plantation, with Hugh O'Neill and O'Donnell all skedaddled; they had to, and with them, the absolute certainty of the Gaelic civilisation. This was done so the Elizabethans could have ownership. This was when the forests were cut down, forcing everybody to look towards London, and that was what 'surrender and re-grant' was all about. They left a people who had been farm dwellers and who were Gaelic speakers in a state of confusion. Jimmy Jack is in a state of confusion – he doesn't know where he is. Maire knows she is going to America to rediscover a life, because she cannot eke out a life here. It is deliberately blind to not see these elements in the play. I have recently finished a series last year called The English about the destruction of the native Americans. It's the same story. Those white Europeans treated the indigenous people the same wherever they went. And what we have here is a very beautiful play about the end of something.
MP It's an ending surely, but it's also the beginning of something too? Here we are, all looking and listening to the legacy of this history - in English - and reflecting on who we are and how we got here.
SR Yes – but this is important. In terms of Irish culture, it has never been more healthy than it is at the moment. That's what I see – the music, the language, the poetry. In both languages, absolutely sensational. It's a very smart play. This isn't a history play about the past, it's about today, here and now.
'Translations' runs at the Lyric until 29 May - get your tickets here.