The Lyric Theatre produces around fifteen productions over the year. As well as producing our own work, the Lyric Theatre presents a range of visiting work including theatre, musicians and comedians on the Main Stage and in the Naughton Studio.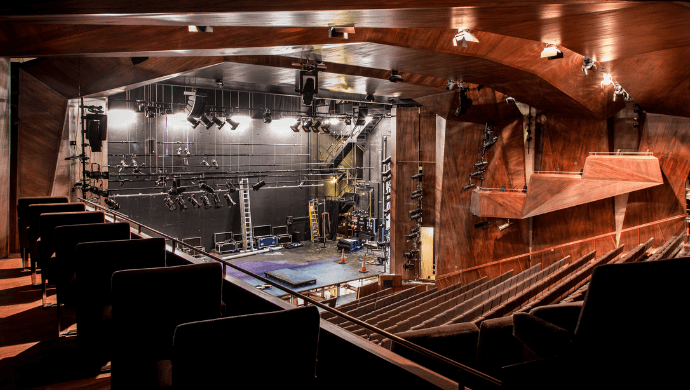 Main Stage - 389 capacity
The Main Stage is used for presenting in-house work, in addition to this we programme a range of visiting work subject to season availability. The Main Stage is programmed on a season-by-season basis, and we have defined stages which are subject to each season launch deadline which is approximately two months before the announcement date.
Naughton Studio - 119 capacity end on (various layouts available)

The Lyric Theatre aims to produce one production per year in the Naughton Studio. This space is programmed on a rolling basis and welcomes a wide variety of productions and events.
This black box studio space accommodates up to 220 people standing (119 seated with option to increase). The Naughton Studio offers an ideal space for exhibitions, receptions, corporate entertaining and performances.
FEATURES
Adjustable layouts available
Retractable seating bank
Fully adaptable with light, sound & projection on request
We typically programme at least 8 months - 12 months in advance, so we recommend getting in touch as early as you can. In the first instance, sending as much information as possible via email is the best mode of contact so we can fully consider your project. We have regular programming meetings and submissions are considered by the Senior Producer and Executive Producer.
We assess all submissions against our missions and values, which include Artist Development; Audience Development; Sales; Artistic Quality, and a successful submission will satisfy at least one of these criteria. A strong preference is also given to local artists/companies and shows that haven't played in Belfast before.