News
Lyric Theatre at the 400th Anniversary of Shakespeare's First Folio
Wed Jul 26 2023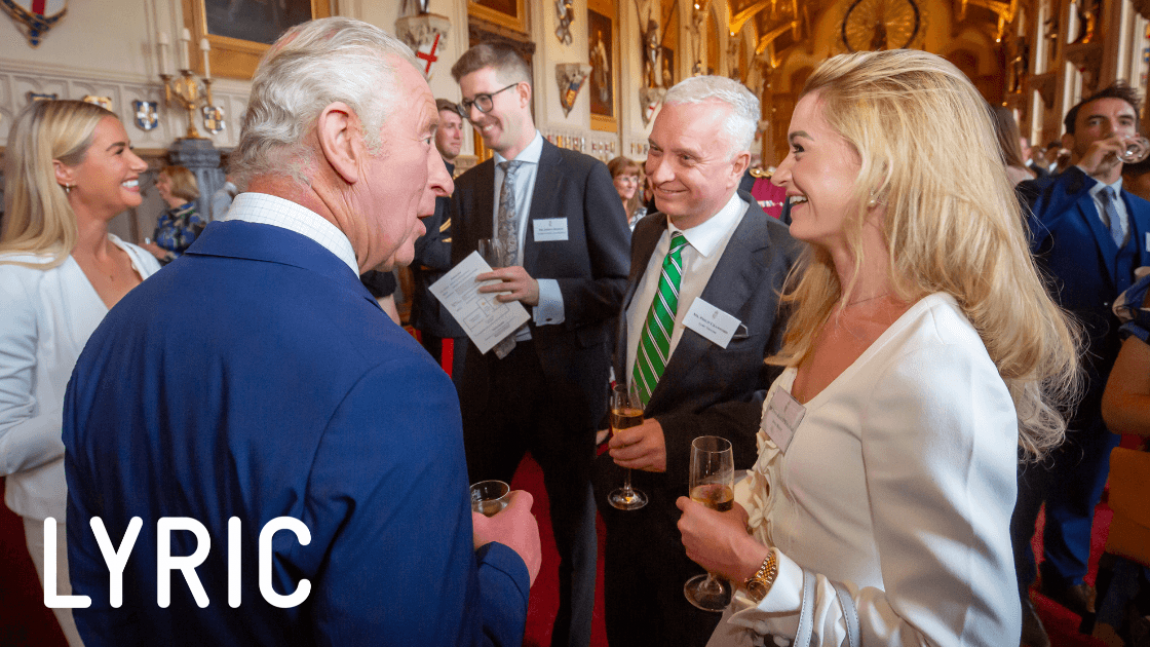 Tuesday 18th July 2023 members of Lyric Senior Management were in attendance at the 400th Anniversary of Shakespeare's First Folio.
Last Tuesday our Head of Creative Learning, Philip Crawford, and Senior Producer, Morag Keating, were invited to Windsor Castle to Celebrate the contribution of William Shakespeare's works to the literary culture and society of the United Kingdom. The event included a Performance and Reception.
The Performance, 'The World's Volume: A Celebration of the 400th Anniversary of Shakespeare's First Folio with the Royal Shakespeare Company' took place in the Waterloo Chamber and was devised and directed by Gregory Doran, Royal Shakespeare Company's Artistic Director Emeritus. This included extracts from Macbeth, Julius Caesar, As You Like It, Twelfth Night, Antony and Cleopatra and The Tempest.
The company was made up by Mr Ray Fearon, Ms Lucy Phelps, Mr Mark Quartley, Sir Simon Russell Beale and Dame Harriet Walter with Mr Paul Englishby as composer, Mr Nick Lee on guitar and Ms Sophia Nomvete as a vocalist.
The works of Shakespeare have been, and will remain to be, important to programming here at the Lyric. The 2023 production of Romeo & Juliet marked the Lyric Theatre's 25th Shakespeare production on Ridgeway Street. Our very first ever Shakespeare production took place back in 1959, with Romeo & Juliet, in the grounds of our home of our founder, Mary O'Malley. 64 years later, and we were honoured to continue Mary O'Malley's legacy with this production of Romeo & Juliet, bringing the classic text into a modern-day setting.
Timeline of Shakespeare at the Lyric
1959 - Romeo & Juliet, at Mary O'Malley's house
1971 - Romeo & Juliet, Director: C. Denys
1973 - Macbeth, Director: Donald Bodley
1976 - Henry IV Part One, Director: Ian Lindsay
1978 - A Midsummer Night's Dream, Director: Tony Dinner
1981 - Julius Ceasar, Director: Leon Rubin
1983 - Twelfth Night, Director: John Price
1984 - Macbeth, Director: Patrick Stanford
1986 - The Comedy of Errors, Director: Patrick Stanford
1994 - The Taming of the Shrew, Director: Robin Midgley
1997 - A Midsummer Night's Dream, Director: Robin Midgley
1999 - Twelfth Night, Director: Andrew Hinds
2002 - Macbeth, Director: Jackie Doyle
2005 - Macbeth, Director: Conall Morrison
2007 - Much Ado About Nothing, Director: Rachel O'Riordan
2012 - Macbeth, Director: Lynne Parker
2023 - Romeo & Juliet, Director: Philip Crawford